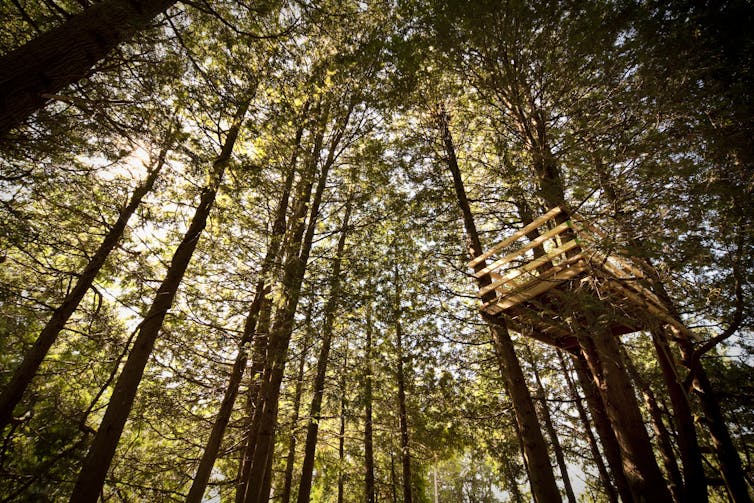 Elizabeth Hale, University of New England and Lynnette Lounsbury, Avondale College of Higher Education
Two of Australia's most popular children's storytellers live in a treehouse. It's a Thirteen-Storey one, at least it started out that way. The storytellers are Terry Denton and Andy Griffiths, responsible for an array of children's comedies, who live in a fantasy treehouse paradise. There they write and illustrate their stories, distracted by the lemonade fountains, see-through shark-infested swimming pool and a marshmallow gun that shoots directly into your mouth.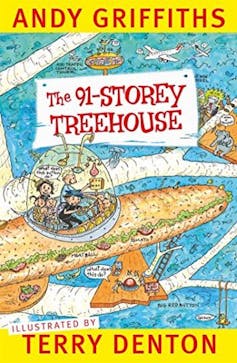 Since its arrival on the literary scene in 2011, this Treehouse has grown by 13 storeys at a time. The next edition will be 104 storeys. The books have sold over 3 million copies in Australia alone. The treehouse now contains a detective agency, a mashed potato and gravy train and a machine that makes money… or honey… depending on what you'd prefer. These delights interrupt Andy and Terry as they write for their publisher, Mr Bignose. Indeed the treehouse functions as a metaphor for the writing process … its storeys provide food for the stories produced inside.
Treehouses feature often in children's stories. In Dav Pilkey's popular Captain Underpants series, the heroes George and Harold write comics in their treehouse and retreat to it when things get out of hand, to regroup and create their way out of trouble. There are, of course, Tolkien's Ents, the walking trees who fight on the side of good against Sauron and his army. Or Dr Seuss's Lorax, who guards the Truffula trees from devastation. Ents and the Lorax are guardians of the ecosystem. When they act we know that something is badly out of kilter – in these cases in the fight between good and evil.
Mention Enid Blyton's Faraway Tree stories, meanwhile, and many a grown-up gets misty-eyed. Mary Pope Osborne's Magic Tree House series has been going strong for 25 years, and has nearly 100 titles. Carter Higgins's Everything You Need for a Treehouse helps you get kitted out for your own woodland home. And mythology is full of trees.

The World Tree of ancient Norse mythology, Yggdrasil, is similar to the thirteen-storey treehouse, linking the nine realms of the world (of fire, of ice, of elves, of gods, of fertility, of giants, of dwarves, of humans, and of the dishonorable dead). In Ovid's Metamorphoses, when King Eresichthyon of Thessaly cut down the Greek Goddess Demeter's favourite oak tree she teamed up with her sister Fames to torment him with a hunger so eternal that he eventually ate himself.
The Russian witch, Baba Yaga, lives in a mobile treehouse on a chicken foot, like an old-fashioned Grey Nomad. The Biblical serpent tempted Eve to taste fruit of the tree of knowledge. And many European forests are inhabited by tree creatures, such as sylphs and dryads, eco-friendly creatures that appear in fantasy literature such as Polish writer Andrzej Sapkowski's The Witcher.
So it's not surprising that living in the trees gives Andy and Terry and George and Harold access to fantasy spaces, and to magic and mystery. A technical term for this is liminality: in a liminal space, you are on the borders of things, or thresholds (the word come from the Latin for threshold, limen). If you live in a tree, you are up in the air, but connected to the earth.
At heart, most myths respond to fundamental practical needs. Tree house stories recognise that children need time in nature. For generations of urban children, these books offer a fantasy of unsupervised creative spaces where they can control their own adventures, face dangers that test them and engage with others in a less restricted way.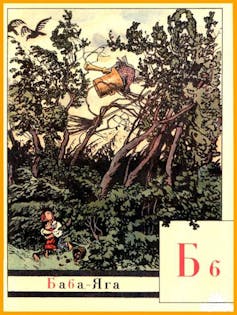 In Vitamin N: The Essential Guide to a Nature Rich Life (2016), author Richard Louv coined the phrase "Nature deficit disorder" to describe the human costs of alienation from the natural world. Opportunities for play in nature have dramatically declined in urbanised societies and with them, benefits such as creativity, problem-solving and emotional and intellectual development.
Writers like Denton and Griffiths recognise the child's need for nature. So does Tina Matthews, in whose Waiting for Later a tree provides company for a child whose family is too busy to spend time with her. And so does mythology which regularly takes characters into nature, to confront, to challenge or to come to terms with life.

While the Thirteen-Storey Treehouse may not be directly inspired by Yggdrasil or Demeter's Oak, or hop about like Baba Yaga's hut, it understands the relation between creativity and time in the woods, taking part in a grand literary tradition that goes as far back as myth itself.
Elizabeth Hale, Senior Lecturer in English and Writing (children's literature), University of New England and Lynnette Lounsbury, Lecturer in Communications and History, Avondale College of Higher Education
This article was originally published on The Conversation. Read the original article.